Accidents like car crashes, dog bites, and slip-and-falls have unfortunately become an almost daily occurrence in Georgia. However, when it's the negligent or careless actions of another person or entity that are to blame for the accident, they should be held liable for the damages the victims incur.
Our Atlanta personal injury attorneys at Humphrey & Ballard Law have many years of experience representing injury cases just like yours. Give our Atlanta office a call today at 404-341-0499 and let us help you to navigate the court system for your personal injury claim.
The sooner you call the sooner we can begin your claim and you can receive compensation. In the state of Georgia, you have two years from the date of the injury in which to file your personal injury claim. If you fail to file your personal injury claim within that two-year time frame you risk not receiving any compensation for your injuries.
What Should I Do After an Injury?
Being injured is a stressful experience, and it's normal to find yourself feeling overwhelmed. To ensure your safety and protect your rights, follow these steps:
Seek Medical Attention and Keep Records
After an injury, it's important to seek medical attention. Even if you think that your injuries are minor at the time, you should still seek medical attention. Some injuries may take several days to reveal themselves. Keep records of all medical treatment and if possible take some pictures of the injury itself.
Take Photos and Speak With Witnesses
It's also wise to take pictures or videos of the location where the injury occurred. Collect any names and contact information of any potential witnesses. These may be people that saw the injury happen or were there when it happened.
Report the Accident
It's also important to report the incident. Call the police and report a car accident as soon as possible. If the incident occurred at work report it to a supervisor and file the report according to the work procedure that is laid forth in the work documents.
Do Not Admit Fault
Avoid admitting fault to anyone. This information could be used against you in a court of law and you don't want to risk losing out on possible compensation. Even if you think something was your fault, there may be possible mitigating circumstances that caused the injury so don't discuss fault with anyone other than your attorney.
Do Not Sign Anything Without a Lawyer
Do not sign any documents if an insurance company asks you to sign. If you do sign, you might not be able to receive any compensation due to the wording of the document. The other insurance party will try everything in their power to get you to sign documents so that they can avoid paying your claim.
Call a Personal Injury Injury Attorney
Call Humphrey and Ballard Law in Atlanta as soon as possible to file your injury claim. You can reach us at 404-341-0499.
Why Do I Need a Lawyer?
At Humphrey & Ballard Law, we've had years of experience preparing and filing personal injury cases. We'll prepare your case for presentation in court and file the personal injury case for you. We'll help navigate the court system and work toward an equitable settlement negotiation for you.
We prepare all of the documents if your case goes to trial and present them in the court of law for you. We represent you all of the way so that you don't have to do this all on your own.
What Type of Damages Can I Recover in Atlanta, Georgia?
Personal injury victims can recover three types of damages.
Economic Damages
Economic damages typically involve past and any future lost wages or earnings. They also include damages to personal property including loss of value as well as medical expenses. These costs are easy to quantify and can be readily be calculated as compensation.
Non-Economic Damages
Non-economic damages are losses that are intangible. These include consortium, pain and suffering, emotional toll, anxiety and distress, inconvenience, and more. These costs are more challenging to calculate as they are more subjective and may be more challenging to quantify.
Punitive Damages
Punitive damages are typically awarded to the plaintiff if the defendant is guilty of reckless behavior or if they have blatantly disregarded other people's lives and well-being. Punitive damages are intended to punish defendants for malicious behavior as opposed to compensating the victim.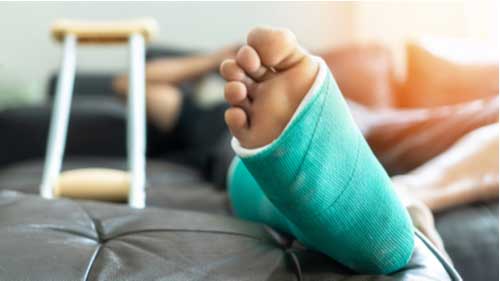 How Is Liability Determined?
In order to establish liability, your lawyer must prove the four elements of negligence.
Duty of Care: The defendant had a responsibility towards the victim in a particular situation. For example, motorists must obey traffic laws.
Breach of Duty of Care: The defendant did not fulfill the duty of care.
Causation: The injury was a direct result of the defendant's negligent actions.
Damages: The victim suffered injuries and financial losses.
How Much Time Do I Have to File a Personal Injury Claim in Georgia?
In the state of Georgia, you have two years from the date of your injury in which to file your personal injury claim. If you fail to file your personal injury claim within the two-year time period you likely won't have a case and won't receive any compensation.
How Much Will an Atlanta Personal Injury Attorney Cost?
At Humphrey and Ballard Law, we operate on a contingency fee. A contingency fee will only be paid if we secure a settlement or you are awarded compensation in a court of law. We will receive a percentage of the final amount that is awarded to our client. For this reason, we always strive to get you the most possible compensation that we can.
Types of Personal Injury Cases We Handle at Humphrey and Ballard Law
We handle a variety of personal injury cases in Georgia, including:
Car Accidents
We help clients who sustained injuries in a car accident due to the negligence of another driver. The at-fault driver may have been driving while intoxicated, failed to drive in a safe manner, failed to follow the speed limit, etc. Common car accident injuries include whiplash, lacerations, and broken bones.
Truck Accidents
Since commercial trucks and 18-wheelers are heavy and powerful, truck accidents usually cause devastating injuries to those in passenger vehicles. Our lawyers can help you get full compensation from a negligent truck driver.
Motorcycle Accidents
Motorcycles offer limited protection. Most motorcycle accidents cause severe injuries or death. If you were injured or lost a loved one in a motorcycle crash, call our law firm today for help.
Slip and Falls
Slips and falls can happen at work, in businesses, and in other locations. It's important to document carefully what happened, record the date and time, and take photos if possible to ensure that all of the information is available for a court of law.
Premises Liability
Property owners have a responsibility to ensure conditions are safe for visitors. If a property owner knows about a safety risk and fails to fix it or warn visitors, they can be held liable for injuries that occur. Our attorneys understand the details of premises liability law and can help you secure fair compensation.
Product Liability
Buying a product is often assumed to be a safe process that cannot go wrong. However, a damaged or malfunctioning product can lead to a serious injury that changes the course of your life. Possible grouds of a product liability lawsuit include faulty design, manufacturing defects, and improper labeling.
Wrongful Death
Any death due to the negligence of others is a potential wrongful death lawsuit. While compensation cannot ease the grief of losing a loved one, it can allow the family to cope with the economic burdens. Our compassionate attorneys can help you hold the responsible party accountable.
Dog Bites
If someone's dog has bitten you or someone you love, the person bitten may be eligible for compensation. Call Humphrey and Ballard Law at 404-341-0499 for a free case evaluation and consultation.
Looking for a Trusted Atlanta Personal Injury Attorney?
If you or someone you love has been injured due to someone else's negligence, you may be eligible for personal injury compensation. It's important to keep records of everything that happens after you're injured. Keep all copies of your medical treatment and the doctor's instructions for your care. If at all possible, take pictures of your injuries and make sure to collect the names of any potential witnesses as well as their contact information.
Always seek prompt medical attention if you've been injured. Even if you don't think that your injuries are serious, you still need to have them looked at. Call our Atlanta personal injury Attorneys at 404-341-0499 and file a personal injury claim as soon as possible. Avoid signing any documents that the other party's insurance company asks you to sign. If you do sign, you might be signing away the ability to file a personal injury claim and forfeit any potential compensation that you may be due.
The state of Georgia allows you two years from the date of your injury to file your personal injury claim. Call Humphrey and Ballard Law as soon as possible to ensure that you receive the compensation that you're due. You can reach us at 404-341-0499.