Given the massive size and weight of big-rigs, 18-wheelers, tractor-trailers, semi-trucks, and other large commercial vehicles, accidents are often devastating to occupants of smaller vehicles. Truck accident victims in Riverdale are often left with severe and life-altering injuries.
Beyond dealing with immense physical and emotional pain caused by the injuries, truck accident victims face overwhelming medical bills, long-term financial challenges, and additional stress negotiating with insurance companies.
Thankfully, you don't have to struggle with the aftermath of an accident alone. You can trust the experienced and respected Riverdale truck accident lawyers at Humphrey & Ballard Law. We can take the pressure off you and manage all details of your claim from start to finish. For years, our personal injury lawyers have been serving individuals and their loved ones in Riverdale, South Fulton, and throughout Georgia. Please reach out today at 404-341-0499 for a free consultation.
Georgia Truck Accident Statistics
Truck accidents are all too common on Georgia roadways, with an average of 6,411 vehicles involved in truck-related incidents each year from 2017 to 2020.
Data from the National Highway Traffic Safety database shows that, on average, truck accidents kill 201 people each year. A staggering percentage of fatalities in truck accidents are occupants of passenger cars, pedestrians, and motorcyclists.
Georgia residents should be concerned when looking at the statistics related to truck accidents in the state. Other specific statistics compiled by the Federal Motor Carrier Safety Administration for truck accidents in Georgia include:
In 2020, there were 195 fatal truck-related crashes.
The number of fatalities resulting from truck accidents totaled 220.
The number of injuries resulting from truck accidents totaled 2,597.

What Steps Should I Follow After a Truck Accident?
Anyone who has been in a motor vehicle accident can relate to the fact that the initial few seconds after the accident are terrifying, perplexing, and emotional. However, your first reactions and actions might have a substantial influence on your recovery and potential to seek compensation for your injuries.
Following a truck-related accident, you must make every effort to take the following steps:
Call 911
It is critical to call the police as soon as possible so that the police can document the accident and submit an official police report. Calling 911 is much more crucial if you require immediate medical attention.
Help Others
If you are not injured, check on the status of your passengers and anybody else involved in the incident. Provide aid if possible, which implies that doing so will not cause more suffering or injury.
Exchange Info
While you're waiting for the cops, attempt to get as much information as you can from witnesses, the truck driver, and other motorists involved in the crash. Motorists involved in any traffic accident in Georgia are expected to disclose their details. Obtain the truck driver's insurance details, license number, employer information, and contact information.
Speak With Witnesses
You should also speak with eyewitnesses and obtain their contact information, as well as any images they may have taken. Their testimonies and any evidence they might have may be extremely helpful in determining fault and bolstering your claim.
Document the Scene
Begin collecting evidence of the wreck by snapping as many images and videos of the incident as you can using your smartphone. Take photos from various angles and distances to provide your attorney, insurance company, and jury with a clear image of the collision and the extent of the damage.
Seek Medical Attention
You are likely to suffer injuries if you are involved in a collision with a truck. As a result, as soon as EMTs arrive at the scene, get medical care. Never deny medical attention at the scene of an accident. Be sure to answer all of the EMTs' health-related inquiries.
Even if the paramedics have cleared you to go home, make sure you get to the hospital within 48 hours after the accident for a comprehensive assessment by a medical specialist. Please inform your doctor about your injuries and suggest that they keep a complete record of your injuries and treatment.
Contact an Attorney
Don't waste time after a truck accident — contact a reputable attorney right away. The aftermath of an accident is frequently confusing. You'll want a reputable and skilled Riverdale truck accident lawyer on your side, such as the professionals at Humphrey & Ballard Law, to watch out for you and safeguard your rights and interests.
What Are the Specific Laws Regarding Truck Accident Liability in Georgia?
There are two important legal standards to understand when it comes to truck accident liability in Georgia.
Modified Comparative Negligence
Georgia's modified comparative negligence rule dictates that a truck accident victim is entitled to compensation for damages even if they are determined to be partially at fault. If the victim was also at fault, the court will lower the award by the amount equivalent to their percentage of fault. However, if the injured person's percentage of blame exceeds 49 percent, they cannot receive any compensation.
Vicarious Liability
In Georgia, if you were in a truck accident with a trucker who was on the clock, you may be able to sue the trucking business or the owner of the truck under a doctrine known as vicarious liability.
If vicarious liability applies to your case, the following parties may be held liable in your 18-wheeler accident:
A small business
A private truck driver
A corporation
A local municipality or state government
Humphrey & Ballard Law can assist you in determining if vicarious responsibility applies in your Riverdale truck accident case.
How Can a Riverdale Truck Accident Lawyer Help Me?
If you've been in an 18-wheeler or semi/heavy truck accident, you're probably struggling with severe pain and devastating injuries. Even in the best-case scenario, it can take months, if not years, to get your life back on track. At the same time, you may find that money is becoming scarce due to lost work and mounting medical expenses.
Fortunately, you may be eligible to pursue compensation for your losses. But you already have a lot on your plate. Hiring a truck accident attorney near you can provide you with the time and peace of mind required to heal and face the coming days. It can also help your case succeed and get you the money and justice you deserve.
Our truck accident lawyers in Riverdale are dedicated to offering an unrivaled level of legal service from beginning to end. They can assist you with all elements of your case, including:
Investigation
Spearheading investigations is one of the numerous ways a lawyer can help. With the assistance of specialists such as accident reconstructionists, our attorneys will examine the accident scene and gather and preserve all evidence, including the photos of the location and the truck's black box, which can indicate what transpired seconds before the accident.
Filing a Claim
Your truck attorney can file your truck accident claim on your behalf and ensure you don't miss any deadlines, such as Georgia's statutes of limitations for truck accident cases.
Negotiations
Keep in mind that insurance companies, including your own, will do everything possible to avoid paying your claim. Our attorneys understand the various strategies used by insurance agents and adjusters and the value of particular injuries such as traumatic brain injuries. They will fight for your right to recover a fair settlement.
Litigation
If settlement talks fail, your case will have to go to court. A truck accident lawyer can assist you with the necessary paperwork to take your case to trial. At Humphrey & Ballard Law, we have the resources, knowledge, and trial experience to represent you in court. Call our legal team at 404-341-0499 for more information on how we can assist with your case.
What Types of Compensation Can Victims Recover After a Truck Accident in Georgia?
Truck accident victims and their families are entitled to full compensation for all of their truck accident-related losses, expenditures, and injuries.
Georgia law acknowledges that victims of truck accidents suffer devastating financial and personal losses. As a result, Georgia law allows "damages" for persons who have been injured in truck-related accidents, and the compensation available is typically fairly substantial.
With the assistance of our knowledgeable truck accident attorneys in Riverdale, you may be able to collect all three types of damages, including:
Economic
These are damages or losses that have a dollar value. They include:
Medical expenses (including expected future medical expenses)
Property damage
Lost wages
Lost earning capacity
Home or vehicle modification costs
Other costs related to medical care such as medical devices
Non-Economic
These damages are awarded for incalculable losses or those without a specific dollar value. They include:
Mental anguish
Physical pain and suffering
Disfigurement or permanent disability
Loss of consortium
Loss of enjoyment of life
Punitive
In exceptional circumstances, a Georgia court may award punitive damages to the victim of a truck accident. As opposed to compensatory damages, these damages are intended to penalize the guilty person for behaving with intentional malice or purposeful recklessness and dissuade others from doing the same in the future.
How Much is My Riverdale Truck Accident Claim Worth?
Truck accident claims often result in high-value claims because they cause catastrophic injuries and considerable property damage. As a result, truck accident lawsuits are frequently connected with large compensation sums. There is no fixed value for damages in Georgia. The final value of your truck accident claim is determined by several factors, including but not limited to:
How the crash happened
Costs of medical care
The severity of your injuries
The length of your treatment
The liable party
Transportation costs linked to your treatment
Your age, earning capacity, family situation
Sum of repair and replacement costs
The impact of the accident on your life
The amount of work you have missed and are expected to miss
Documented proof of your pain and suffering after the accident
The inclination and generosity of the individual judge and the jury
Your attorney's skill and ability to investigate, negotiate, and present your case.
Every truck accident case is unique. However, you can be confident that our Riverdale truck accident attorneys will thoroughly investigate your case to discover the extent of your losses and the implications of your injuries on your life. That way, we will be better positioned to fight for the maximum compensation available.
Is There a Time Limit for Filing a Truck Accident Claim in Georgia?
You must take action quickly or risk losing everything! The statute of limitations in Georgia for truck accident claims is only two years, giving plaintiffs only two years from the date of the injury to bring a lawsuit for compensation. Four years for seeking compensation for property damage only. However, memories can fade before that, evidence can vanish, and witnesses can become unavailable. This can harm your case and make recovering compensation difficult, if not impossible.
You have a lot on your plate in the weeks and months following an 18-wheeler truck or trailer-truck accident. Allow the successful Riverdale truck accident lawyers at Humphrey & Ballard Law to handle your truck accident case, including meeting Georgia's strict time limits.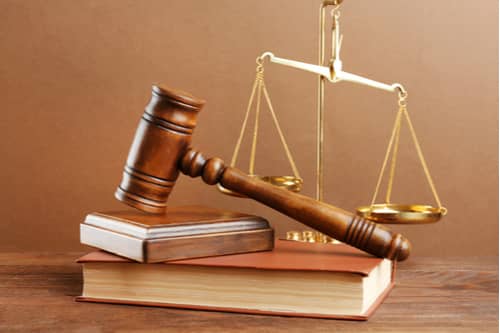 How is Fault Established in Truck Accident Cases?
Determining who is responsible for a collision or crash is not always straightforward in a truck-related accident. Several variables must be examined, such as information gathered from eyewitnesses and other parties engaged in the incident, the police report, the driver's work status, and so on. Because there are multiple parties involved, this procedure is frequently complex and overwhelming. For example, another business may have been hired to handle the freight.
In most truck accident cases, the legal principle of negligence is crucial in establishing fault. Insurance carriers and courts in Georgia will use the idea of negligence to assign fault. Negligence is established by proving the four primary elements of negligence: duty, breach of duty, causation, and damages.
In any situation, it is beneficial to have an experienced attorney in Riverdale to assist you in navigating this complex procedure. A trusted truck accident lawyer near you can examine the facts and rapidly determine who is at fault and make sure the trucking company and the insurance companies involved don't shift the blame to you.
Can a Lawyer Prove the Truck Driver was Negligent?
Yes. When you are hurt in a truck accident, the truck driver's first line of defense is to point the finger at you, another driver, their employer, or another party. A Riverdale truck accident attorney can assist you in proving the truck driver's carelessness by demonstrating the four aspects of negligence: duty, breach of duty, causation, and damages.
Common instances of a trucker's negligence include:
Failing to follow traffic rules
Who Can Be Held Liable?
Victims of truck accidents in Georgia may be eligible to seek compensation from anybody whose reckless or irresponsible acts resulted in their injuries and losses, including:
The truck driver
The truck company
Vehicle or parts manufacturers
The company that loaded the truck
The auto repair shop or mechanic
Any other third party that shared fault for the accident
Common Causes of Truck Accidents
Truck accidents are caused by various factors, some of which are more widespread and evident than others. Some of the most common causes of big-rig and other truck-related accidents that our Georgia attorneys see include:
Reckless driving
Distracted driving
Oversized or improperly secured cargo
Drug use
Lack of truck maintenance
Poorly trained or inexperienced truck drivers
Driver fatigue
Equipment malfunction
Bad weather and poor road conditions
Regardless of how the truck accident happened, our lawyers are ready to fight for you and hold responsible parties or entities accountable.
Contact a Truck Accident Lawyer in Riverdale Today!
If you were injured in an accident involving a big rig, tractor-trailer, 18-wheeler, or other heavy commercial truck, don't wait until your pain becomes unbearable or your medical costs pile up. Keep in mind that you have a limited window of two years from the date of the event to submit a claim. We can help!
The dedicated Riverdale truck accident lawyers at Humphrey & Ballard Law can file your truck accident claim promptly, determine potential accountable parties, and more! For years, we have battled for the rights of wounded clients and their families in Riverdale, South Fulton, and throughout Georgia, working tirelessly to ensure that they receive the just compensation they deserve.
Please call us at 404-341-0499 for a free, private, and no-obligation consultation about your truck accident.