Motorcycle accidents are pretty common, and most times, individuals who are injured in such an accident are severely hurt or die on the spot. Often, insurance companies tend to blame motorcyclists for causing the accident, but so many factors contribute to motorcycle accidents.
Motorcycles are an excellent means of getting around, and riding on them can feel quite liberating. However, they do not offer any surrounding protection, so accidents are often severe. Besides dealing with the significant injuries sustained from the accident, individuals are often forced to follow up with insurance, who try to blame them and offer them the least compensation.
Our Riverdale motorcycle accident lawyers at Humphrey & Ballard Law are well versed with the law and will fight to ensure you are well-compensated. We have experience dealing with similar cases and will give you a fighting chance to ensure that you are fully compensated. Hiring a motorcycle accident lawyer in Riverdale also ensures you have an expert on your team who will prioritize your interests so insurance companies do not cheat you out of your rightful compensation.
Call our experienced Riverdale auto accident lawyers at Humphrey & Ballard Law at 404-341-0499 or use our contact form to set up a consultation and have your case assessed for free.
How Can a Riverdale Motorcycle Accident Lawyer Help with My Compensation Claim?
Fundamentally, a lawyer offers you expert legal advice, helps you through the whole process of your claim, and ensures you are awarded the compensation you deserve. Below are more ways a Riverdale motorcycle accident attorney can help you with your compensation claim:
Preparing and Helping You File Your Claim
Our lawyers will compile and prepare all the evidence that will help you build a successful case while you focus on your recovery. They will also work with other experts to ensure you have a claim that accounts for all the losses and injuries you sustained. They take care of all the necessary paperwork and handle all the requirements needed to file your claim.
Negotiations
Unsurprisingly, insurers love to pin the blame of motorcycle-related accidents on the motorcyclist, making the process of pursuing a claim challenging for riders. Our lawyers handle negotiations with the insurance agents and adjusters on your behalf to make the claim process easier for you and to ensure that you are fully compensated.
Trial Representation
Representing you in court to ensure you receive maximum compensation if they cannot settle with the insurance company outside court.
If you are involved in a Riverdale motorcycle crash or wreck, ensure you find a reputable personal injury lawyer near you and talk to them about your case. If you can, avoid contacting the insurance team. You can be sure that you will be well represented and receive maximum compensation when you work with our team of experts.
Common Causes of Motorcycle Accidents
Multiple factors contribute to motorcycle accidents, and contrary to popular belief, motorcyclists are not always to blame for most accidents. Below are some causes of motorcycle accidents:
Unexpected pedestrians in the road
Drugged or drunk driving
Faulty lighting, brakes, or mirrors
Not paying attention to motorcycles
Road hazards
Not adjusting driving to rural roads, bad weather, or heavy traffic
Tailgating
Drivers not yielding to bikers
Opening car doors
Inexperienced motorists
Lane splitting and lane changes
Most accidents can be avoided or prevented. Our Riverdale motorcycle accident lawyers will help investigate your case to determine the party at fault.
Motorcycle Accident Statistics
Per the Georgia Department of Driver Services, motorcyclists represented 11% of the total traffic fatalities in Georgia in 2019. The number of motorcycle accident fatalities has increased in Georgia, from 139 in 2017 to 179 in 2020. There were 3,948 motorcycle crashes statewide in 2019.
The NHTSA stated that the number of motorcycle riders killed in 2016 was 167, and 90% of them had helmets on. They also believe that in 2016 helmets saved 1,895 motorcycle riders from death.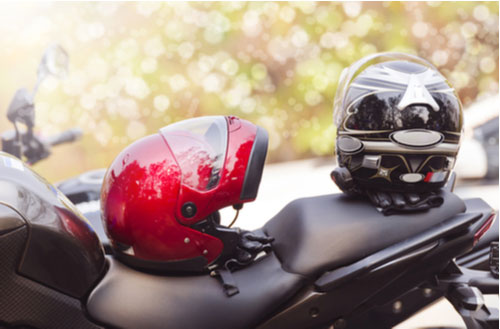 What Are the Motorcycle-Specific Laws in Georgia?
Georgia law establishes many specific rules for motorcycles.
GA Code § 40-6-312 (2019):
In Georgia, any individual operating a motorcycle must keep their taillights and headlights on at all times.
There will be no more than two motorcycles operating abreast on a single lane.
No individual should operate their motorcycle between adjacent rows of vehicles or lanes of traffic.
No individual operating a motorcycle will overtake and pass a similar lane occupied by a vehicle that is being overtaken.
Motorcycles are entitled to using a full lane, and other vehicles should not be driven in a way that deprives motorcycles of using an entire lane.
GA Code § 40-6-314 (2019):
No one should operate a motorcycle with handlebars that are more than 25 inches high or with a backrest whose design creates a sharp point at the apex.
Any motorcycle carrying a passenger should be equipped with footrests for the passenger, except if it is an enclosed cab or a sidecar
GA Code § 40-6-313 (2019):
No motorcycle operator will attach the motorcycle or themselves to any vehicle on the roadway.
GA Code § 40-6-315 (2019):
In 1969 Georgia passed a mandatory motorcycle helmet law, which is a requirement that is enforced to date.
All motorcycle operators and their passengers must use an approved helmet.
Motorcyclists should use approved eyewear or have a visor on the helmet and have a windshield that offers eye protection.
GA Code § 40-6-311 (2019):
No one should operate a motorcycle while carrying a bundle or package that interferes with the motorcycle's operation or the operator's view.
No one should ride upon or operate a motorcycle unless they wear footwear other than socks.
What Are the Common Injuries Caused by Motorcycle Accidents?
Motorcyclists can sustain severe injuries that will alter the course of their lives, even in the slightest crash. It is rare for a rider to come out of a motorcycle accident without sustaining any injury. Simply put, riders are susceptible to sustaining severe injuries and even death when involved in an accident. Riders just don't have much protection to shield them and provide cover like occupants in vehicles.
Examples of common injuries seen in motorcycle accidents include:
Spinal cord injuries: Spinal cord injuries can result in one being paralyzed or dying.
Broken bones: The impact of a motorcycle crash can lead to motorcyclists fracturing their bones. Often, most individuals sustain this injury when involved in a motorcycle accident since they are thrown off the motorcycle.
Brain and head injuries: Motorcyclists must wear a helmet. Failure to do so means that should one be involved in a crash and hit their head, the impact may cause a traumatic brain injury.
Road rash: When you fall off your motorcycle while riding at high speed and are involved in a crash when you hit the ground, your body will get abrasions, bruises, and cuts.
How Is Fault/Liability Determined in a Georgia Motorcycle Accident?
There are different ways that establish fault in a Georgia motorcycle accident, and the party at fault will be held accountable for resulting damages. Anyone can be held responsible for a motorcycle accident, including the motorcycle manufacture, other motorists, and the government for not maintaining the road where the accident took place.
Below are examples of factors that come into play when determining liability in a motorcycle accident:
Statements taken from eyewitnesses
Evidence collected from the accident scene
Investigations performed by professionals and policemen
Working with a motorcycle accident lawyer in Riverdale will make a significant difference. The legal team at Humphrey & Ballard Law has experience tackling motorcycle accident cases and will ensure they collect sufficient evidence to help determine the party at fault, which will help you build a strong case.
What Compensation Can I Obtain After My Motorcycle Accident?
Often, when you are involved in a motorcycle accident, your life's trajectory may change drastically. For instance, you may come out of it paralyzed for life, or you may require long-term medical care. The aftermath of a loved one or you being in a motorcycle accident can take a toll on you physically, emotionally, and financially, which is why you need to work with our Riverdale motorcycle accident attorney to ensure you get maximum compensation.
Below are the different types of compensation you may receive from your motorcycle accident:
Economic Damages
Economic damages are often easy to calculate since they have a definitive monetary value. They are usually calculated from your employment and medical records and may include:
Loss of Earning Capacity: If you lose your job because you cannot work there because of the injuries you got in the accident, you have to be awarded economic damages.
Damage Replacement and Repair Costs: If your property and motorcycle got damaged during the accident, our motorcycle accident lawyer in Riverdale will ensure you are compensated so you can repair or replace them based on the damage's extent.
Lost Income: If the injuries you got from your motorcycle accident prevent you from working for an extended period, these damages will cover your past and future lost income.
Medical Expenses: It is worth mentioning that past and future medical expenses will be calculated, and some of the costs that will be taken into account include but are not limited to medical devices, hospital stay, prescriptions, and physical therapy.
Non-Economic Damages
Non-economic damages cannot be financially quantified since they have no specific monetary value attached to them. They include:
Loss of companion, guidance, or consortium
Mental anguish
Loss of enjoyment of life
Emotional distress
Pain and suffering
Permanent disfigurement
Punitive Damages
Punitive damages are not compensatory like non-economic and economic damages. On the contrary, these damages are meant to further punish the person at fault for their act of negligence that caused significant injury or harm. They are meant to discourage the general public and the defendant from taking part in a similar action in the future.
Why Was My Motorcycle Accident Claim Denied?
It is not uncommon for one's claim to be denied since insurers have a biased opinion that motorcyclists are always the ones at fault. It's important to have a Riverdale motorcycle accident lawyer represent you since insurers tend to put up a fight, which you will likely not win without the help of an expert.
Below are some reasons why your motorcycle accident claim may be denied:
They do not think your injuries were caused by the accident.
You did not seek medical attention immediately after the motorcycle accident.
The policy lapsed or was canceled.
They think pre-existing medical conditions are the cause of your injuries.
They do not believe you were injured.
The policy amount is not sufficient to pay your claim.
They believe it is your fault.
You did not provide the proper documentation.
The driver is not insured under the policy.
You didn't stick to the statute of limitations.
You were operating a motorcycle without a license.
Are There Time Limits for Filing a Motorcycle Accident Claim in Georgia?
There is a time limit to filing your motorcycle accident claim in Georgia. You have two years from the time of the accident to file the claim. It is worth mentioning that this time limit does not apply to any victims who are below 18 years. The time limit starts running when they are emancipated or after they turn 18.
The two-year limitation also applies to wrongful death claims from a motorcycle accident. If your loved one or you are ever involved in a motorcycle accident in Georgia, and you intend to file a claim, ensure you do so within the two-year time limit.
Talk to a Motorcycle Accident Lawyer in Riverdale Today
The personal injury lawyers at Humphrey & Ballad Law have years of experience dealing with motorcycle accident claims. We are well acquainted with the law and will ensure that you get the compensation you deserve. Dealing with catastrophic injuries and fighting for justice can be stressful and overwhelming.
Let us help. You and your family don't have to struggle with the stress and uncertainties that come with the aftermath of a motorcycle accident. We can do it for you, all the while making sure your rights and interests are protected.
If you're involved in a motorcycle-related crash, please contact our Riverdale motorcycle accident lawyers to understand your legal options. Humphrey & Ballard Law cares. Let us help with your case — call 404-341-0499  to schedule your free consultation today.