When you lose a loved one due to someone else's carelessness, grief is infused with rage, uncertainty, and frustration. It wasn't their time, and it should never have happened! Now, when still mourning, you are forced to find a way to pay household bills, manage your expenses, and figure out how to move on without someone who has been taken from you.
Georgia law allows the family of someone who dies because of the negligence of others to file a wrongful death claim. It's a way to seek both financial and emotional restitution. The wrongdoer should be held accountable! If you want to file a lawsuit in Georgia, the experienced Riverdale wrongful death lawyers at Humphrey & Ballard Law are here to assist you.
Our compassionate personal injury lawyers can guide you through the complex legal process and stand in your corner every step of the way. Contact the Riverdale wrongful death attorneys at Humphrey & Ballard Law at 404-341-0499 today for a free initial consultation.
How is Wrongful Death Defined in Georgia?
Under Georgia law (Ga. Code § 51-4-1 (2021).), wrongful death is a death that occurs because of criminal or other negligence or from a property or product that has been defectively manufactured. In other words, wrongful death in Georgia occurs when a person loses their life as a result of the legal fault of another individual or entity, including by:
Medical malpractice
A negligence-based incident (such as a pedestrian accident)
A defective product or property, or
An intentional/malicious act (such as a crime)
What's the Difference Between a Wrongful Death Claim and an Estate Claim?
After the wrongful death of a family member, surviving family members typically have two legal claims that they can file with Georgia courts. The first type of claim is a "wrongful death claim," and the second type of claim is an "estate claim." Continue reading to learn more about each, and for more information, please get in touch with a trusted wrongful death lawyer near you.
A wrongful death claim (O.C.G.A.§ 51-4-2(a) is a claim for the "full value of the life of the deceased" from the decedent's eyes. In other words, it's a claim that considers what the deceased's life meant from their perspective. Therefore, a wrongful death claim is brought to seek compensation for the tangible and intangible value of a loved one's life.
On the other hand, an estate claim allows the deceased's surviving family (through the estate representative or executor) to recover compensation for punitive damages and the deceased's losses before their death, such as medical bills, pain and suffering, and funeral expenses.
When you're grieving the untimely death of a family member, it can be difficult to consider starting a legal battle. Furthermore, the complexities of Georgia's wrongful death claims can add to the stress.
You do not have to face the difficulties of a wrongful death claim on your own. The Riverdale wrongful death attorneys at Humphrey & Ballard Law have a thorough understanding of the legal process surrounding wrongful death claims and estate claims in Georgia and can assist you with your case.
Who Can File a Wrongful Death Lawsuit in Georgia?
Unfortunately, many Georgia families are faced with the death of a loved one as a result of another person's or party's negligent, reckless, careless, or even criminal actions. This is referred to as a wrongful death case.
A wrongful death lawsuit allows a living family member to file a claim on behalf of a deceased victim. After all, unlike in typical personal injury cases, the injured person (the deceased) in a wrongful death case cannot bring their case to court. Instead, another person must bring the claim on behalf of the deceased, and Georgia law identifies who is qualified to do so in the following order:
The Spouse of the Deceased: If the deceased was married, the first person who can file a wrongful death lawsuit is the spouse. They can also bring the claim on behalf of the decedent's children under the age of 18.
Child or Children of the Deceased: If there is no surviving spouse, the surviving children can file the claim.
Parents of the Deceased: If the decedent did not have a surviving spouse or children, any surviving parent could bring the claim.
The Administrator of the Decedent's Estate: A designated executor of the decedent's estate can also file a wrongful death claim. Then, recovered damages will go to the decedent's heirs.
If you have lost a family member due to wrongful death and are unsure if you're eligible to file a wrongful death claim, we can help. Humphrey & Ballard Law's experienced Riverdale wrongful death attorneys can provide the legal counsel you require to hold the responsible person or entity accountable for your loved one's death.
What Types of Damages Are Recoverable?
When someone you care about dies unexpectedly, the emotional and financial consequences can be devastating. In addition to immediate financial losses like medical expenses, burial, and funeral costs, surviving family members lose their loved one's income as well as future financial and emotional support.
Fortunately, Georgia's wrongful death statutes allow surviving family members in a wrongful death lawsuit can recover two categories of damages: economic (calculable financial losses) and non-economic (intangible or emotional losses).
Examples of economic damages include:
Lost expected income: Surviving family may recover compensation for "reasonably expected net income."
Medical Expenses: Medical expenses covered by the family
Lost benefits: Loss of gifts or benefits that the surviving family would have expected to get from the deceased
Lost compensation: Compensation for household services that the decedent would have provided to their family
Examples of non-economic damages available in a wrongful death case in Riverdale include:
Loss of the deceased person's protection, guidance, or care
Loss of consortium
Loss of companionship, affection, comfort, and moral support
Other emotional/intangible benefits the family members would have otherwise received from the decedent
Can Family Members File for Punitive Damages?
Yes. However, not directly.
Under Georgia law, surviving family members, even the decedent's spouse or other beneficiaries, cannot claim punitive damages. The only way for a decedent's loved ones to recover punitive damages in a wrongful death case in Georgia is through the estate.
Punitive damages are paid to the decedent's estate on behalf of the estate's surviving heirs and are intended to punish the defendant rather than make the estate whole. Punitive damages, for example, may be available in a DUI motorcycle crash.
The decedent's negligence is ignored when determining the award for punitive damages in wrongful death cases.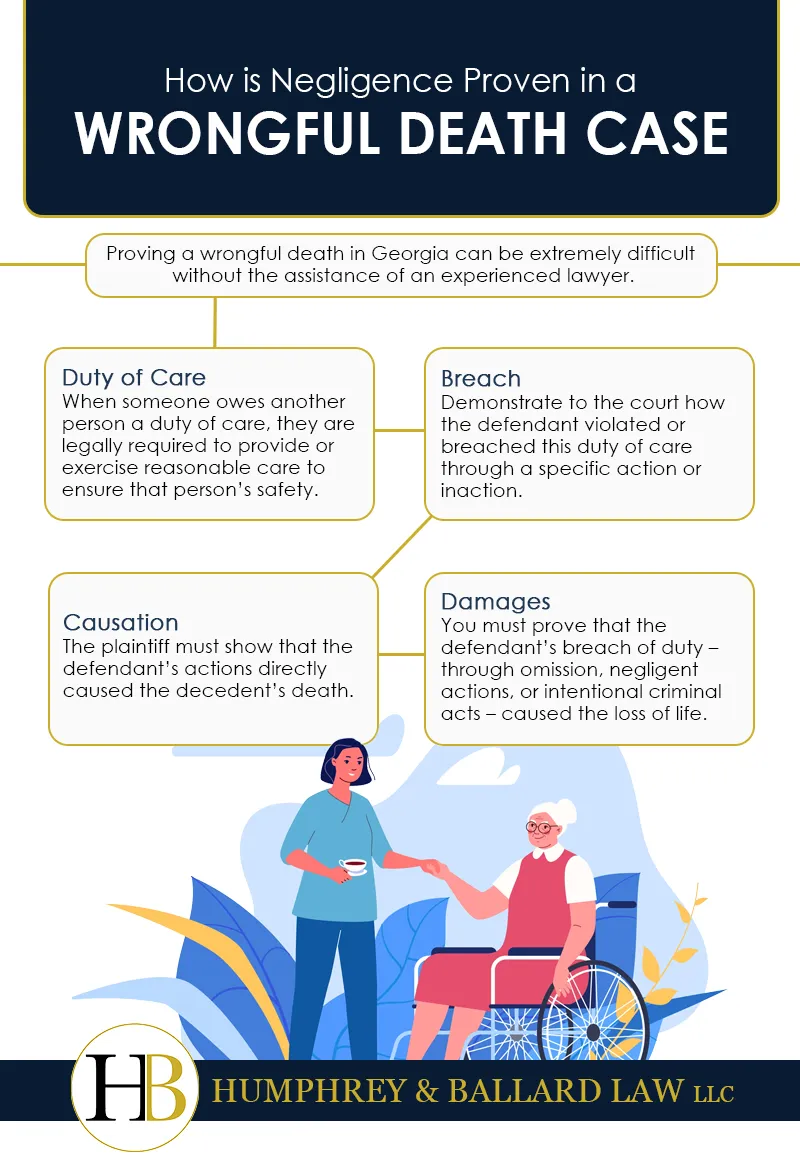 How is Negligence Proven in a Wrongful Death Case?
The sad truth is that most fatal accidents in Georgia result from negligence or a failure to exercise reasonable care. Unfortunately, proving a wrongful death in Georgia can be extremely difficult without the assistance of an experienced lawyer. For you to have your day in court in Riverdale, GA, four elements of proof or negligence must be present:
Duty of Care
When someone owes another person a duty of care, they are legally required to provide or exercise reasonable care to ensure that person's safety. That means that you must present evidence showing that the accused owed the deceased a duty of care.
Breach
The plaintiff must then demonstrate to the court how the defendant violated or breached this duty of care through a specific action or inaction when another reasonable person in the same situation would have acted appropriately.
Causation
To win a wrongful death case, the plaintiff must show that the defendant's actions directly caused the decedent's death. In other words, the decedent's death could have been avoided had it not been for the defendant's wrongful act, omission, or negligence.
Damages
You must prove that the defendant's breach of duty – whether through omission, negligent actions, or intentional criminal acts – caused the loss of life.
Georgia's Modified Comparative Negligence:
This rule states that the decedent's surviving family cannot be compensated for damages if it is determined that the deceased was equally or more responsible for the resulting accident.
Furthermore, suppose multiple parties are held liable for the accident that killed your loved one. In that case, you may be barred from recovering compensation for damages if your loved one's negligence is more than the combined percentage of negligence of all defendants. As a result, family members can only recover damages for the loss of a loved one in a wrongful death if the decedent was less than 50% at fault.
Are you worried that might not have a case because of your loved one's contribution to the accident? Don't fret! Our wrongful death attorneys in Riverdale are well-versed in Georgia's wrongful death laws. They will work to minimize your loved one's percentage of blame for the accident so that your family receives the compensation they deserve.
How Do You Start a Wrongful Death Claim in Georgia?
Nobody looks forward to filing a wrongful death claim. You'd probably give up everything to keep the one you love alive and avoid wrongful death lawsuits. You have unfortunately found yourself in this terribly sad and difficult situation. You understand you need to grieve, but you also recognize that you must seek justice for the loss of your loved one in the form of monetary compensation through a wrongful death claim.
Here's how to file a wrongful death claim in Riverdale, Georgia:
Understand You Have a Claim
If you've lost a loved one unexpectedly and suspect it was due to someone else's intent or negligence, you need to get the facts straight, including the circumstances surrounding the incident and potentially responsible parties.
Preserve Evidence
To defend your wrongful death claim against potential motions to dismiss, you must gather and examine crucial evidence to demonstrate that the defendant's intentional, reckless, or negligent actions caused the victim's death.
Negotiation & Settling
In some cases, the accused party may approach the plaintiff and offer an out-of-court settlement. If you decline the offer, you retain the right to file a wrongful death lawsuit. If the defendant offers you a reasonable and fair settlement, you should consider accepting it because you are not guaranteed to win the case.
Prepare a Petition/Pleading
To formulate an initial complaint, file a petition naming the potentially liable party and the elements of your wrongful death claim based on legal precedent and facts. A petition must be filed per Georgia's court rules.
Summons and Service of Process
After the investigations are completed, and the at-fault party has been identified, your attorney will notify them of your intention to file a civil lawsuit against them. A summons is a document that informs the accused of the presence of a wrongful death lawsuit. It also specifies where and when the legal proceedings will take place.
The service of process is a notice sent to the defendant informing them of their summons and putting them on notice about the lawsuit.
Litigation
The litigation process consists of three stages: pre-trial, trial, and arbitration. Parties may continue to negotiate during litigation, but the case will have its day in court if no agreement is reached. When the case goes to trial, a judge and jury will issue a final verdict that will determine the amount of settlement to be awarded to the plaintiff, if any.
Don't tackle these steps on your own! The steps outlined above are more complicated than they appear, which is why you need a lawyer. An experienced Riverdale wrongful death attorney can help protect your rights and handle all of these steps from beginning to end.
What is the Time Limit for Wrongful Death Claims in Georgia?
When a family member dies, it is devastating and it can be difficult to imagine going up against insurance companies and the lawyers of at-fault parties while still grieving the loss of a loved one. Humphrey & Ballard Law's skilled wrongful death attorneys in Riverdale will guide you through this difficult time and ensure that the legal process runs as smoothly as possible for your family.
However, it is critical to remember that strict deadlines for filing a wrongful death claim exist. Georgia's wrongful death statute of limitations places a two-year time limit on wrongful death claims. Depending on the facts and unique circumstances surrounding your case, this period may vary and may even be shorter. If you fail to file your wrongful death claim within the specified time frame, Georgia courts may bar your family from recovering the damages you need and deserve.
Please make time to speak with a Riverdale wrongful death lawyer as soon as possible so that they can start the legal process and protect your interest.
Talk to a Compassionate Riverdale Wrongful Death Lawyer for Free
After the heartbreaking loss of a loved one in a fatal Riverdale accident, you may discover that you do not have enough money to cover funeral or burial expenses. You may be concerned about how you will make ends meet if you are financially dependent on a loved one. These are the types of damages that can be recovered in a wrongful death lawsuit in Georgia.
For years, the attorneys at Humphrey and Ballard Law in Riverdale have assisted loved ones filing wrongful death claims. We are knowledgeable, compassionate, and ready to assist you in obtaining the necessary financial recovery.
We understand that no figure can compensate for the loss of life. However, we've discovered that it can assist surviving loved ones in covering expenses and moving on from the accident. Call 404-341-0499 or fill out our form today for a FREE and confidential consultation with one of our experienced Riverdale wrongful death lawyers.