Have you or your loved one been injured in a truck accident? If so, you deserve justice and compensation for your injuries. An experienced South Fulton truck accident lawyer can look into your case to determine if you have a valid personal injury claim.
At Humphrey & Ballard Law, our car accident lawyers are prepared to protect your rights after a truck collision. We will conduct an in-depth investigation to help you recover damages for your property damage, medical bills, and even lost income.
Contact us today at 404-341-0499 to schedule your free consultation. Our legal team is ready to determine if you have a case.
Truck Accident Statistics
According to the National Highway Traffic Safety Administration (NHTSA), 5,005 road users died in 2019 in accidents involving large trucks. The figure was almost identical in 2018 after 5,006 people were killed in large truck accidents. 71% of the deaths recorded in 2019 were from the occupants of other vehicles.
NHTSA's National Center for Statistics and Analysis reported 204 fatalities involving large trucks in Georgia. This data was retrieved from single and multiple vehicle accidents.
What Should You Do After a Truck Accident?
After a truck accident, there are various things that you should do to boost your truck accident claim, including:
Call 911
Contact the police as soon as you are involved in an accident. The police report that they'll prepare is the official record of your crash. Your insurance carrier may require this report after an accident.
Help Others
It's crucial to check on other involved parties after an accident. Your quick actions may save someone else's life.
Exchange Information
Get the truck driver's name, contact information, insurance information, license plate, and trucking company details. Do not overshare details with other involved parties that may be used against you.
Document the Scene and Speak With Witnesses
It's essential to photograph the scene of the accident. Take as many photographs of your injuries and vehicle damage. You should also write down witness information, such as names and phone numbers.
Seek Medical Attention
Insurance companies may blame you for your injuries if you don't seek immediate medical attention. Visit your doctor as soon as possible for checkups and medical care.
Contact an Attorney
Call a South Fulton truck accident lawyer immediately after your crash. Don't accept any offers from insurance adjusters before speaking to an attorney. Get in touch with your lawyer for advice regarding your rights after the accident.
What Are the Laws Regarding Truck Accident Liability?
Trucking companies and their drivers are governed by intrastate and interstate laws. The Federal Motor Carrier Safety Administration (FMCSA) regulates the trucking sector throughout the U.S. The agency requires trucking companies to conduct regular inspections of their trucks and prepare daily inspection reports once drivers end their trips.
In Georgia, all truck drivers must be over 18 years of age to obtain a commercial driver's license (CDL) to operate commercial trucks. Drivers are also required to operate their trucks for only 11 hours following a 10-hour break. This ensures they don't drive their trucks while fatigued, endangering the lives of other road users.
How Can a Truck Accident Lawyer Help?
After a truck accident, you should hire a truck accident lawyer near South Fulton to help you with your claim. Here's how Humphrey & Ballard Law can help:
Investigation
The legal team at Humphrey & Ballard Law will conduct a comprehensive investigation into your case to determine if you have a valid claim.
Filing a Claim
Once we conclude our investigations, we will file a claim in accordance with the insurance carrier's guidelines.
Negotiations
Our legal team will handle all negotiations on your behalf to ensure you get the compensation you deserve.
Litigation
The trial lawyers at Humphrey & Ballard Law are prepared to fight for your rights and interests in Georgia courts.
What Types of Compensation Can I Receive?
In Georgia, victims of truck wrecks can recover various types of damage, including:
Economic Damages
These are monetary losses caused by a truck collision. They include medical expenses, property damage, and lost wages.
Non-Economic Damages
These are non-monetary losses that result from the truck accident. They include pain and suffering, emotional distress, and loss of consortium.
Punitive Damages
These damages are awarded to punish defendants for their willful or reckless actions. They are meant to deter defendants from committing similar actions or omissions in the future.
There is a $250,000 cap on punitive damages in Georgia. However, this cap doesn't apply to accidents caused by drivers under the influence of alcohol or drugs.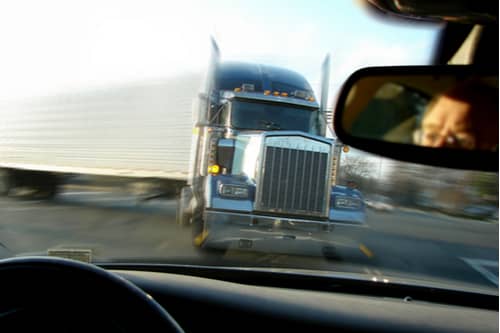 How Much Is My Truck Accident Claim Worth?
Every truck accident is different. Our legal team will consider the facts of your case when determining the value of your claim. We will consider the severity of your injuries, liability, and insurance policy coverage during our analysis. Evidence such as injuries, medical records, and police reports can come in handy when evaluating your damages.
Is There a Deadline for Filing a Claim?
In Georgia, you have two years from the date of your accident to file a personal injury claim. Property damage claims must be filed within four years. If you don't file your claim within this period, you may lose your benefits.
How Is Fault in a Truck Accident Determined?
Georgia applies modified comparative negligence rules when determining fault. To receive compensation for damages, your fault must be less than 50%. An experienced lawyer in South Fulton will look at evidence such as logbooks, truck maintenance reports, dashcam footage, and police reports, to prove the driver is to blame for your accident.
Can a Lawyer Prove the Truck Driver Was Negligent?
To establish if a truck driver was negligent in a truck accident claim, an experienced lawyer must prove these four elements:
Duty of care: Did the defendant owe the plaintiff a duty to offer reasonable care?
Breach of duty: Did the defendant breach their duty by acting recklessly?
Causation: Did their actions or omissions lead to your truck accident in South Fulton, GA?
Damages: Did the plaintiff suffer damages like vehicle damage, lost benefits, and medical expenses due to the truck wreck?
At Humphrey & Ballard Law, our South Fulton truck accident lawyers will prove these four elements to ensure you have a valid personal injury claim.
Who Can Be Held Liable?
After an accident, it's easy to point fingers at all other parties. An experienced truck accident attorney in South Fulton can look into all pieces of evidence to help you determine who is to blame for your accident. In most cases, the truck driver carries the blame.
The trucking company may also be held vicariously liable for the actions of its employees. Part manufacturers, government agencies, and the company responsible for loading the truck may also be at fault for your accident.
Common Causes of Truck Accidents
Most truck accidents are avoidable. Drivers who don't observe federal and state traffic rules endanger the lives of all road users. Here are some of the common causes of truck accidents in South Fulton, Georgia:
Driver Fatigue
Drivers who overwork themselves to meet deadlines may become fatigued and cause accidents.
Distracted Driving
Actions such as texting, smoking, eating, or daydreaming amount to distracted driving.
Reckless Driving
Aggressive driving and speeding are careless actions that may end up causing truck collisions.
Drug Use
The use of alcohol or drugs may lead to impairment. This may affect a driver's concentration, vision, and response time.
Oversized or Improperly Secured Freight
The cargo that a truck is ferrying may interfere with its center of gravity, making it hard for the driver to control their truck and negotiate sharp corners.
Poorly Trained or Inexperienced Drivers
Drivers operating big rigs should be adequately trained and experienced to ensure everyone on the road is safe. Trucking companies should enroll their drivers in defensive driving courses.
Lack of Truck Maintenance
Regular truck maintenance can help to avert catastrophic accidents on South Fulton roads.
Equipment Malfunction
Defective truck parts such as suspensions may cause a driver to lose control and cause an accident.
Poor Road Conditions
Road debris and potholes are some of the conditions that may cause a driver to swerve and lose control of their 80,000-pound truck while on the road.
The legal team at Humphrey & Ballard Law will look into all pieces of evidence to determine what caused your truck accident and who is to blame. Once we are done, we will file a truck accident claim.
Call Our South Fulton Truck Accident Lawyers to Book an Appointment Today
Have you or your loved one been hurt in a truck accident? Then, you may be eligible for compensation. It is your right to seek damages if someone else is to blame for your injuries. You deserve the help of competent attorneys who can help you get maximum compensation for your personal injury claim.
Desmond Humphrey and David Ballard are prepared to help you get the justice you deserve. We offer free consultations for victims of truck accidents in South Fulton, Georgia. Humphrey & Ballard Law is located in Atlanta, Georgia, and we are ready to offer you elite legal representation.
Call 404-341-0499 today to find out if you have a case. No case is too big or too small for our legal team. Get started now before your two-year limit runs out.