144 people lost their lives in 2019 in Fulton County in traffic-related accidents. Out of these, more than 70 were related to alcohol use and speeding. There were more than 45,000 crashes in 2018 and more than 650 of those were serious crashes. While not all accidents are fatal but many of these accidents have the potential to cause serious damage.
If you have been injured in a car accident due to the negligent actions of others, you should take the help of a South Fulton car accident lawyer to get fair financial compensation. Here at Humphrey & Ballard Law, our personal injury attorneys can offer legal counsel for your case. Give a call at 404-341-0499 for a completely free consultation.
How Much Does a South Fulton Car Accident Lawyer Cost?
Here at Humphrey & Ballard Law, you do not have to pay anything upfront. We work on a contingency fee basis. You do not need to pay anything unless we are successful in winning damages for you. Give us a call at 404-341-0499 to know more about our contingency fee arrangement.
What Should I Do After a Car Accident?
Your actions following a car accident are crucial to determining the outcome of a case. Keep the following steps in mind:
Call the Police
Dial 911 to get help. Always ask for medical attention in case you are hurt. When the police officer arrives at the scene of the accident, provide them with all the details. They will make a police report. You're going to need it later.
Take Pictures and Get Witness Details
Try to take pictures of the accident scene including your vehicle, the other vehicle, and any other details. Try to document everything including roadway obstacles, driving conditions, and any other factors that might have led to the crash. If there are any witnesses, make sure you write down their names as well as contact information. They are unlikely to stick around until the police arrive and even when the police officer arrives, they may not get time to talk to everyone.
Exchange Information
If possible, ask for details of the other driver's insurance information. The insurance card of the other driver might have limits mentioned on the card and this is why you should take pictures of the front as well as the back of the card. It is important to not talk to the insurance company until you have a good lawyer.
Do Not Admit Fault
It is important that you do not admit fault. You should not argue with or confront the other driver. In case you apologize, it might be construed as an admission of your guilt. At the accident scene, you should never admit that the accident was your fault.
Do Not Leave
In Georgia, failure to stop and render aid is considered a misdemeanor even when the accident does not result in serious injury or death.
Call a Car Accident Lawyer
Call a law firm specializing in personal injury cases. An experienced South Fulton car accident lawyer will help you understand the worth of your case. They will also negotiate with the insurance companies on your behalf. Without a good lawyer, you may not get what you deserve.
Give a call at 404-341-0499 to discuss the details of your case and to schedule an appointment for a completely free consultation.
What Is the Average Settlement for a Car Accident?
As far as the average personal-injury car accident claim in Georgia is concerned, it usually ranges from $10,000 to $25,000. In moderate cases, the average settlement typically falls between $2500 and $10,000. However, settlement in your case will depend on the negotiation between the insurance company and other parties. In order to arrive at an appropriate compensation amount, your attorney will work hard to gather all the facts of the case and to document all the related expenses and losses.
When Should I Get a Lawyer for My Auto Accident?
It is best to hire the services of an experienced car accident attorney, as early as possible. You should try to get a lawyer on the date of the accident or in a few days if possible.
Why Do I Need a Lawyer?
You should be able to handle the claim on your own if nobody has been injured in the accident. However, if there is a significant loss of property or somebody has been injured in the accident, it is better to hire the services of a car accident attorney for your injury claim. Here are a few benefits of working with an attorney:
Negotiate With the Insurance Company
Insurance companies employ highly trained and experienced adjusters who try to minimize the claim. In fact, they routinely deny valid claims. An experienced attorney will negotiate with the insurance company on your behalf to make sure you get the compensation you deserve.
Proving Liability
In a car accident claim, the amount of compensation depends, to a large extent, on proving the negligent acts of others. An experienced car accident attorney will gather all the details and go through the evidence to build a strong case and help you win the compensation you deserve.
Calculating the True Value of Your Claim
Calculating the true value of the damages you have suffered is not easy. Experienced attorneys know how to make sure that compensation covers all of your losses.
Filing a Lawsuit
When you consult with an experienced attorney, your will fully understand all the legal options available to you. A car accident attorney will help you file a personal injury lawsuit in case a reasonable settlement amount isn't offered by the insurance company. More often than not, it pushes the insurance company to offer a fair settlement.
What Type of Damages Can I Recover?
In Georgia, car accident victims may recover compensation for general, special, and in some cases, punitive damages.
Special Damages
These are also known as economic losses. Losses that can be monetarily quantified are categorized in this group. It may include past and present medical expenses, loss of wages, loss of future earnings, cost of traveling for getting medical treatment, cost of childcare, cost of hiring someone for housekeeping, landscaping, or cooking in certain cases.
General Damages
These are also known as non-economic damages. Losses that cannot be easily quantified are grouped here. It might include compensation for physical pain and suffering, emotional distress, scarring, or disfigurement, among other things.
Punitive Damages
In cases where it is proved that the responsible motorist showed willful misconduct or acted with malice, the court may order them to pay punitive damages. These are designed to act as a detriment for others. There is an upper cap of $275,000 in the state of Georgia on punitive damages and a majority of these damages go to the state treasury.
How Is Fault Determined in the State of Georgia?
Georgia is an at-fault state and it follows the modified comparative negligence rule. It simply means a percentage of blame is assigned to each driver involved in the accident. If both the drivers are found to be equally at fault, neither of the drivers is entitled to any sort of compensation. The proportion of fault might be clear in some cases but it might be difficult to determine in others.
There are 3 avenues available for you to pursue compensation for property damage and medical costs. These include:
Your own insurance company
Other driver's insurance company
Personal-injury civil lawsuit
Georgia requires drivers involved in the accident to file a police report for all auto accidents in Georgia. The insurance adjusters investigate the case and provide their opinion to determine the percentage of fault. However, insurance adjusters are not known to be completely unbiased especially when they are representing the other driver.
This is why it is better to talk to an experienced car accident attorney before talking to the insurance company in order to ensure that you get a fair settlement for your injuries.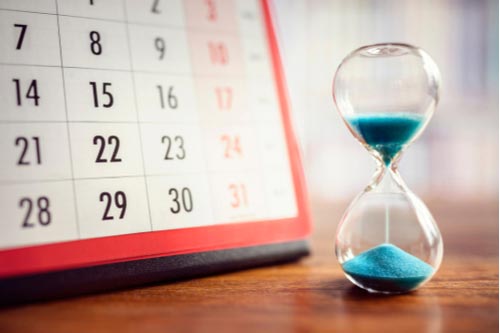 How Long Do I Have to File a Claim?
Georgia has a statute of limitations that puts strict deadlines for filing personal injury claims in case of auto accidents. If a claim isn't filed within this deadline, you might not get the compensation you deserve.
In most cases, you have 2 years from the date of the accident to file an accident claim for seeking financial compensation. There is a 4 years limit from the date of the accident for seeking recovery for property damages. However, if the accident claim involves a state-owned vehicle or a city or county vehicle, the limits are much shorter.
How Can a Lawyer Help Me File My Insurance Claim?
An experienced auto injury attorney will conduct their own investigation in order to build a strong case, based on facts. Insurance adjusters will do their own investigation but it is unlikely to be unbiased. A lawyer will investigate the facts of the case and work with accident reconstruction experts, consult with medical professionals, gather the required evidence, interview witnesses, and conduct a thorough investigation in order to piece together the facts of the case.
Without a lawyer, it is unlikely that you will get fair compensation for your injuries as insurance companies are driven by profit.
What Can I Do if Insurance Denied My Claim?
If your claim is denied, you have multiple options including:
Appealing the denial
Filing a lawsuit
Filing a complaint with the insurance commission
The denial letter given by the insurance company should provide the details on the basis of which your claim has been denied. In case they need more information, you should gather the required information and file your appeal. If you feel that your claim has been illegally or unfairly denied, you have the right to file a complaint with the insurance commission. Make sure to include all the required information in this complaint.
You also have the option of seeking the help of an experienced auto accident attorney. Experienced attorneys regularly engage with insurance companies to get a fair settlement for their clients.
What if the Other Driver Does Not Have Insurance?
Georgia requires all drivers to carry automobile insurance. However, it does not mean that everyone on the road complies with this requirement. In case you get into an accident where the other driver is uninsured, you will need to file a claim against them and if you're successful, the court may award compensation for lost wages, medical bills, property damages, and other damages.
Typically, drivers that don't get insurance do not have many assets. This means collecting on the judgments might be difficult. In such cases, it is recommended to get uninsured motorist coverage or underinsured motorist coverage.
How Can I Obtain an Accident Report?
You have multiple options to obtain an accident report including:
Go in person to the specific police department or Georgia Highway Patrol Post or Sheriff station.
You may also order it online from buycrash.com.
You may also get the assistance of your car accident lawyer who has legal assistants for such work.
Speak to an Experienced South Fulton Car Accident Lawyer
If you have been injured in a car accident in South Fulton, you may be entitled to financial compensation for your injuries and property damage. Call Humphrey & Ballard Law at 404-341-0499 to know more about your legal rights and options.
Get in touch with our law firm to schedule a free, no-obligation case assessment. We work on a contingent fee basis which means you do not need to pay anything unless we win compensation for your injuries.